6 Reliable Window Treatment Ideas for Your Living Room
So you've been designing your living room, and any window treatment ideas. You chose the couches. The TV. The decorative plants. It's almost perfect. There's just one last thing missing.
The right window coverings.
Your living room is the first impression of your home to outsiders. You want to make sure it's a clean, comfortable living space that's also coordinated. Something that screams "I own interior design" without overdoing it.
At Sunny Shutters, we hope to inspire you with some popular ideas for your living room window treatment. Ready? Let's dive right in.
1. The Roman Shade
The roman shade is a good choice for living rooms because it provides privacy and lets light in, which is what you want when you're trying to set a relaxing mood. They come in a variety of fabrics that will look great in your living room.
More Benefits of Roman Shades:
Versatile, so they'll go in any room of the house
Can be removed or adjusted for cleaning with ease
Looks great when slightly pulled apart to let light in
2. The Classic Blinds
Blinds are a timeless window covering choice that is adaptable to change. You can decorate them up with drapery and tie them into the color scheme of your living room.
More Benefits of Blinds:
Simple and classic, so they'll match any room
They're one of the most versatile window treatments, as you can lower them to let light in or stretch fabric across for privacy, depending on preference at the time
3. The Sheer Curtains
Curtains can add warmth and color to your living room, but they also allow you to close off for privacy when needed. They're usually easy to open and close thanks to the curtain rod rings.
More Benefits of Sheer Curtains:
Add color or patterns and increase the attractiveness of a room
Ensure privacy when needed
4. Blinds With Sheer Curtains
This option is really popular these days. You can have the best of both worlds by having blinds behind sheer curtains. This unique window treatment will give your living room a touch of class and show off your personality.
More Benefits of Blinds With Sheer Curtains:
Sheer curtains add a touch of elegance and warmth to the room, while blinds ensure privacy
Both complement each other in functionality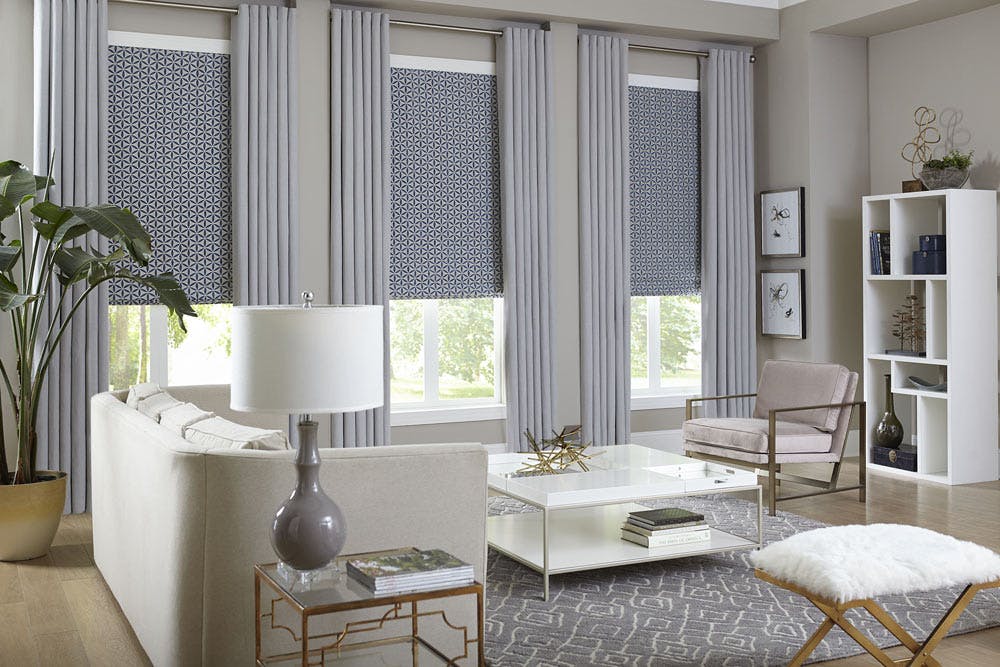 5. Coordinate with your couches
Remember spending hours choosing the perfect couch? Accentuate its beauty one step further by grabbing window treatments that contrast nicely with your couch. If you've got black couches, try white window treatments. If your couch stands out because it has bold colors, match with blinds that are also colorful.
More Benefits of Coordinating Window Treatments With Your Couch:
Gives the room a polished look that visitors will love
Creates visual appeal if done correctly
Adds personality to the room
6. Don't forget your window sill!
While we love stylish window treatments, let's not forget the power of simple and functional items such as a coordinated window sill. Make sure it fits in with your color scheme and is a cute addition to your living room!
More Benefits of Adding A Coordinated Window Sill:
Adds more storage space in the form of shelving
Allows light in when closed, creates privacy when open
Matches with the decor in the room, adding more style points
Get beautiful living room window treatments ideas from Sunny Shutters.
Our products and services will help you find exactly what you're looking for to transform your living room into a relaxing haven that's just the way you want it. We're located in Toronto and serve all surrounding areas.
Call us at 647 857 8669 or submit a form to schedule a free in-home consultation (following COVID-19 safety guidelines)!